Author Ken Jacobi of "Going with the Pitch" appears on CBS Radio's "The Observation Deck"; Early Spring
Ken Jacobi, in February 2011, was on CBS radio's weekly news report called "The Observation Desk". Hitting with anchor Dave Barrett, the two hit some balls inside during the long February stretch. With Spring Training on their minds, the pop of the bat feels that much sweeter.
HSBBWEB Radio – Talk College Baseball with Ken Jacobi
Listen to "Josh and CD" as they talk baseball with Ken Jacobi – former D1 baseball standout and now author of "Going with the Pitch: Adjusting to Baseball, School, and Life as a Division I College Athlete".
"Going with the Pitch" Interview on CBS Radio 880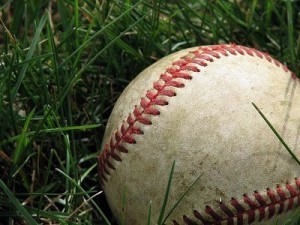 "Author in Binghamton For Book Tour" airs on News Channel 34
"Author in Binghamton For Book" airs on News Channel 34
Former B.U. baseball player Ken Jacobi was in Binghamton the last two days for the final stop of his summer book tour.
He fittingly threw out last night's ceremonial first pitch and had a table at the Bmets game as one of five stops he made in Binghamton.
Jacobi's book "Going with the Pitch: Adjusting to Baseball,School, and Life as a Division I College Athlete" has sold about 750 copies thus far.
Ken Jacobi says, "I just thought it was a great story to tell. It wasn't a remarkable or exceptional story, it was just a very common story that a lot of people go through at college about playing sports and balancing school and a social life and athletics. I thought my struggles and overcoming some obstacles would help other people and other student athletes to do it better when it's their turn to do it."
Jacobi thought it would be fitting to end his book tour where the story began.
http://www.newschannel34.com/content/sports/local/story/Author-In-Binghamton-For-Book-Tour/eWu8s8VXp0S8_qFiPSF39A.cspx
Interview with Fox 40 in Binghamton
Former BU Baseballer Publishes Book
*From Fox 40- Binghamton
We cover their games, you cheer them on, and they repay us by giving it their all on the field.
College athletes are often the face of their universities, but there is much more to what they do besides the action on the field.
Former Binghamton University baseball player Ken Jacobi details those behind the scenes accounts in his book 'Going With The Pitch.'
In his first publication, Jacobi describes what life is like for a college athlete from getting recruited up through graduation, and the highs and lows along the way.
"You've got to be ready to adjust and have some failures. Everyone comes to a program, whether it's Division I, II, or III after being a superstar in high school, and you come here, and you're not.  You have to learn to adjust to, maybe, hitting curve balls or studying a little bit extra and the book really tackles going in to the academics, going in to the mechanics and the mental approach and it all comes together in this book," Jacobi said.
The book is available on Amazon.com and is also available for the Nook and the Kindle.
Interview with WBNG Binghamton
Former B.U. Baseball Player Writes A Book
Vestal, NY (WBNG Binghamton) A former Binghamton University baseball player writes a book, detailing his adjustment from high school to college.
Ken Jacobi's book is called Going With The Pitch, Adjusting To Baseball, School and Life as a Division One Athlete.
The 2009 B.U. Alumnus played for the baseball team for four seasons.
The book outlines the many ups and downs he went through as an athlete at a division one college.
He hopes his story will help others, who are looking to play college athletics.
You can buy a copy of Jacobi's book on Amazon dot com or at Barnes and Noble.
He says it's also available for the Nook and the Kindle.
For more information, you can log onto www.goingwiththepitch.com.