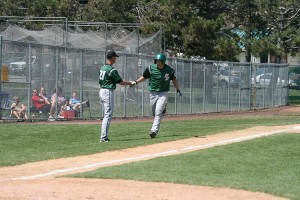 People say you will never forget your first; that it can never be replicated quite the same. I remember my first time. I was 11 years old, just a boy, but my first official collegiate one was a memory I will forever remember…
It was a fastball left out and over the plate. The pitcher had gotten lazy and decided to spoon feed me a fastball right down Broadway. I was just a freshman and was still" homerless" in my college career. It was a warm, sunny Tuesday afternoon on St. Bonaventure's campus, a rarity for early April. The warmth seemed to add a spark to my bat and on impact the entire place knew it was gone. The ball sailed over the make-shift fence and bounced out into the lacrosse practice fields. I lightly tossed my bat aside, like I was a 20 homerun per year guy, and trotted around the bases like this was an everyday occurance.
It was a very special moment in my college career and am happy to report I still have the ball to this day.
Tell us about your first homerun or first memorable accomplishment on the diamond…