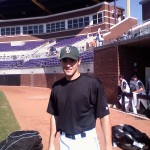 After 200+ college games, I found myself playing in an NCAA Regional against the number 29 ranked team in the nation, George Mason. We had no business winning that game but on this random day in baseball little Binghamton University from Upstate New York was the better team.
I was 0-2 going into what could have been my last at bat ever as a baseball player. I wanted just one more hit with my family watching and I could die (as a baseball player) very happily. As I softly loaded my hands I saw a fastball up and away that I took a hack at. For one second bat perfectly met ball and I connected on a solid line drive up the middle. I had my last hit ever.
We wound up upsetting George Mason and lived to fight another day. Walking out of the ballpark to see my family and friends after the game is one of the best memories I have as a ball player. For one moment I felt complete happiness.
Please share or comment about the final "great" game of your career.